The second bi-weekly meeting for the month of February'2021 took place on February 17th starting at 6 PM CST. It was an online meeting. The session was not recorded.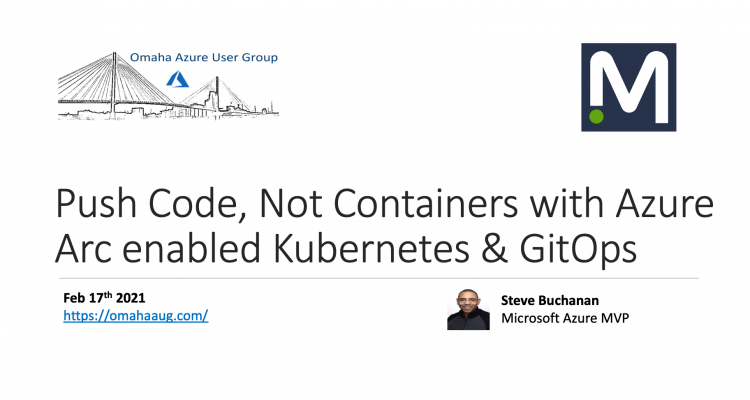 Title: Push Code, Not Containers with Azure Arc enabled Kubernetes and GitOps
Use Azure Arc enabled Kubernetes to manage Kubernetes clusters across Google Cloud Platform and Azure without running a single Kubectl command! In this session, Steve Buchanan will take you into the world of GitOps. He will show you how to deploy applications and configuration to GKE clusters and AKS clusters from a GitHub repository. Explore how we can use this new operating model for Kubernetes and cloud-native apps to declaratively describe and ensure the state of our applications and Kubernetes environments.

Speaker: Steve Buchanan
Steve Buchanan is a Director, & Midwest Containers Services Lead on a Cloud Transformation/DevOps team with a large consulting firm. He is a 9-time Microsoft MVP, Pluralsight author, and the author of six technical books. He has presented at tech events, including Midwest Management Summit (MMS), Microsoft Ignite, BITCon, Experts Live Europe, OSCON, Inside Azure management, and user groups. Steve is currently focused on transforming the position of IT into a strategic partner of the business and driver of digital transformation through ITSM, DevOps, and CloudOps. He stays active in the technical community and enjoys blogging about his adventures in the world of IT at www.buchatech.com.
Sponsor: Medical Solutions
We connect care by staffing amazing facilities nationwide with talented healthcare professionals.
Since launching in 2001, we've aimed to provide "Service that Inspires" to our interconnected family of travel nurses, travels allied health professionals, and client hospitals and facilities. Our knowledgeable, caring team is committed to supporting each of you in your mission to provide excellent patient care!

Our sponsor gave away two $50 gift cards.