Our next meeting will take place on January 18th, 2023, starting at 6 PM Central Time. It will be an in-person meeting. You can also join on Zoom using this link.
Venue – Farm Credit Services of America
5015 S 118th St · Omaha, NE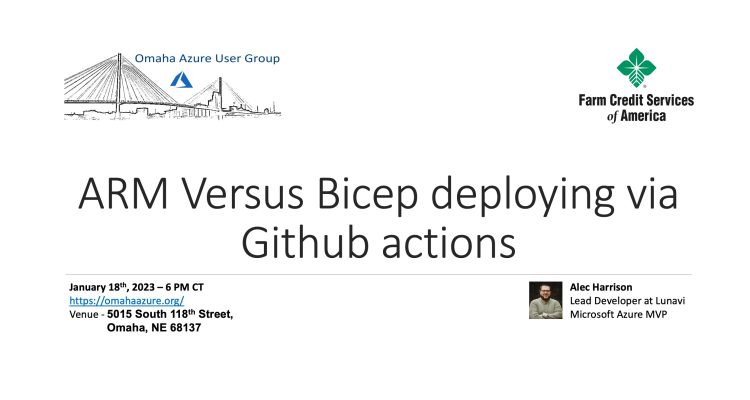 Topic: ARM Versus Bicep deploying via Github actions
Join Alec as he discusses the future implementation of Infrastructure as Code! Is Bicep better than ARM, what does the future look like, is it scary, how do we prepare for the future? Find out in this presentation!
Speaker: Alec Harrison
Alec Harrison is a recent Azure MVP, software development enthusiast passionate about Azure, test-driven development, and agile methodologies. A developer by education he really enjoys keeping his head in the clouds. In his free time, you'll find him learning about new Azure technologies and helping to run the Iowa Microsoft Azure User Group or the KC Azure User Group!
Sponsor: Farm Credit Services of America
At farm credit services of America, we work to become agricultures most valued financial partner, by providing dependable financial tools to farmers and ranchers. We use cutting-edge technologies to build these tools, manage our data, secure the platform, and perform predictive analytics. We bring technology into AgFinancing through innovation. We have over 1800 full-time employees with 250+ working in business technology at our Omaha campus.
Our sponsor will provide food and drinks 15-20 minutes before the meeting starts. Hope to see you there!