Our meeting for September'2022 will take place on September 21st, starting at 6 PM Central Time. It will be an online meeting. Please register here.
To join Microsoft Teams meeting, click here.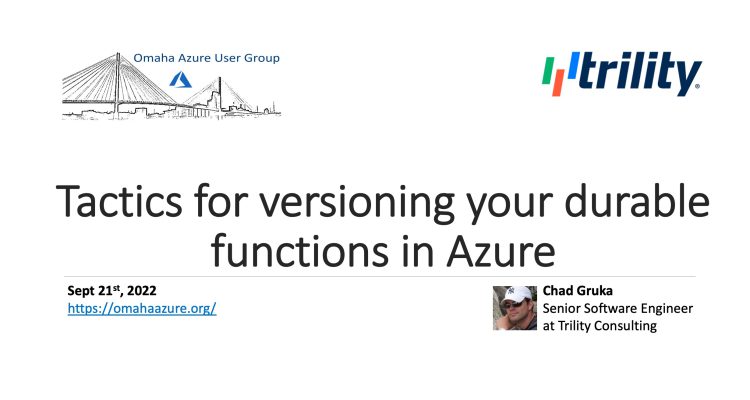 Topic: Tactics for Versioning Your Durable Functions in Azure
Durable Functions is a great solution for executing long-running processes in a cloud-friendly and scalable way. However, making logic changes to Durable Functions comes with challenges. This talk discusses those options and pitfalls of versioning Durable Functions. Additionally, this talk will demonstrate how one of those options comes together.
NOTE: This presentation will assume you have a basic understanding of Azure Functions.
Speaker: Chad Gruka
Senior Software Engineer with Trility Consulting
Chad Gruka literally left Mickey Mouse to work with Omaha-based companies in 2012. His ties with the tech community and longevity working with Microsoft technologies have brought him back for September's virtual Azure User Group.
From Sea World to Disney and now to Trility Consulting, Chad has served as a full-stack developer with excellent communication skills and focused on creating solutions using Microsoft technologies. His past work includes the development of cloud-based, multi-tenant web applications using Restful Services, SQL Server, and Angular frontend. Chad is passionate about cloud and mobile applications using ASP.NET MVC, Web API (REST), SQL, HTML5, XAML, jQuery, and Microsoft Azure.
Twitter: @chadgruka
LinkedIn: http://www.linkedin.com/in/chadgruka/
Sponsor: Trility Consulting
Trility Consulting is a business and technology consulting firm that provides outcome-based, customized solution delivery. We help companies looking to defend or extend their market share in an era of rapid disruption. Trility has a proven history of reliable delivery results in software design and development, cloud engineering, and DevOps. Headquartered in Des Moines, Iowa, and with teams in Omaha, Neb., our people live everywhere and work where needed to help clients simplify, automate, and secure their journey.
Our sponsor will be giving away two $50 Amazon gift cards.