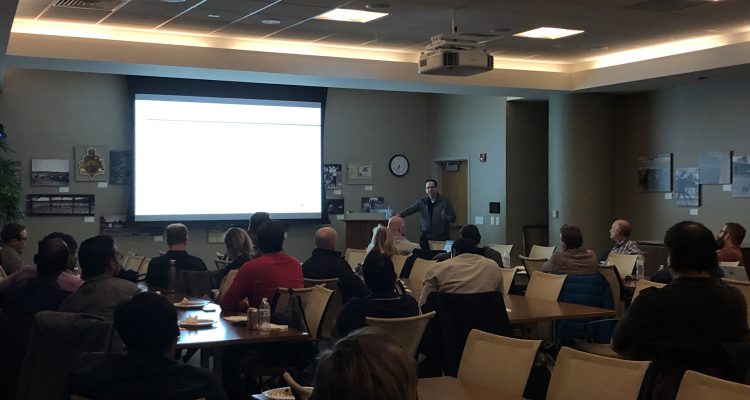 The Omaha Azure User Group meeting for January 2020 took place on Wednesday, February 26th, at 6:00 PM. Food was served by our sponsor before the start of the meeting.
Location: Blue Cross and Blue Shield of Nebraska 1919 Ak-Sar-Ben Dr, Omaha, NE 68180
Topic: "All things SQL in the Microsoft Cloud."
Microsoft's SQL Server database platform has been the foundation of enterprise applications for decades. The adoption of the cloud has started to change the data landscape, and you should be prepared. Microsoft's Azure cloud platform brings many compelling reasons to move your databases to the cloud, but what do you need to know to have a successful migration? Should you pick Azure SQL Database, Managed SQL Instances, or a SQL Server running in a VM in the cloud? How do I size the new service to maximize performance while minimizing cost? What should I expect in the cloud? What about a hybrid architecture? This interactive session will discuss the similarities and differences of operating a SQL Server in the cloud and will demonstrate many tips and tricks for properly selecting and managing the databases in the cloud.
Speaker: David Klee
David Klee is a Microsoft Data Platform MVP and VMware vExpert with a lifelong passion for technology. David spends his days focusing on the convergence of data and infrastructure as the Founder of Heraflux Technologies. His areas of expertise are cloud, virtualization. performance, datacenter architecture, and risk mitigation through high availability and disaster recovery. David speaks at a number of national and regional technology-related events, including the PASS Summit, VMware VMworld, SQLBits, SQL Saturday events, PASS virtual chapter webinars, and many SQL Server User Groups. You can read his blogs at heraflux.com and davidklee.net, and reach him on Twitter at @kleegeek.
Sponsor: Harbinger Partners, Inc.
Harbinger Partners, Inc. (aka Bass & Associates) provides high-quality technology consulting, contract-to-hire, and permanent placements to businesses in and around Omaha, St. Paul/Minneapolis and Dallas areas. Their areas of expertise include Development and Architecture (both Java and .Net), Quality Assurance, Data Warehousing, Project Management, and Business Analysis. They are one of the very few companies in our market that is employee-owned! At their core, they are people dedicated to helping individuals and businesses succeed. For more details, please visit www.harbinger-partners.com
Our sponsor, Harbinger Partners, Inc., has added an incentive for you to come in the form of a few giveaway prizes. At the end of the presentation, we'll be giving away 2 $50 Amazon gift cards and some swag.