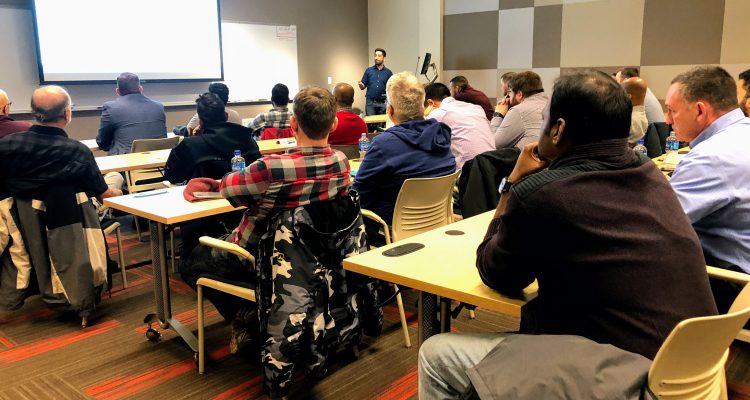 The Omaha Azure User Group meeting for January'2020 took place on Wednesday, January 22nd, at 6:00 PM. Food was served by our sponsor before the start of the meeting.
Slide Deck: https://bit.ly/37mM6zw
Location: Microsoft, 2111 S. 67th Street · Omaha, NE
Topic: Accelerate your IT career with Azure role based certifications
If you are an Azure professional and/or if you use Azure in your daily work, accelerate your IT career with Azure role based certifications. If you have given a certification exam before or if you are planning to write your first exam, you should attend this meeting to
– Understand the different role based certifications which are available
– Choose the right certification for you
– Benefits of taking an exam
– Identify the skill-sets needed for the certifications
– Understand the Exam structure
– Get some Preparation tips
You will get enough information in this meeting to get started with your certification preparation.
Speaker: Vaibhav Gujral
Vaibhav Gujral is a seasoned cloud architect with over 13 years of experience in designing, architect-ing, developing and delivering enterprise class applications. Vaibhav holds good understanding of multiple cloud technologies, DevOps practices, business drivers, and emerging computing trends. Vaibhav also has deep technical expertise in Application Design/Development, API & Application Modernization, Application Migration, Cloud Solution Architecture and micro-services. He is currently working with Kiewit as a cloud architect and is a Microsoft Certified Azure Architect. He also holds numerous other Azure certifications. He blogs at https://vaibhavgujral.com/. He is a co-organizer of Omaha Azure user group and is also a regular speaker.
Sponsor: Capstone Consulting
Established in 1999, Capstone is a premier IT staffing and solutions business headquartered in Omaha, NE with a branch in Kansas City. We are a values-based business with a strong reputation of providing the right solution at the right time for the right price.
Capstone is a Microsoft Azure Gold Partner and an Azure Silver Development Partner. We apply broad-based experience from multiple disciplines and industries to provide clear guidance and direction in assisting IT delivery results. Additionally, we develop custom applications and business solutions that create the right solution to a specific business problem.
Capstone was founded on the principle of integrity first; we do what we say, say what we do. We keep our promises and guarantee that we deliver beyond client expectations. This philosophy enables us to serve as a trusted partner with our clients and ensure you are best positioned to leverage technology to achieve lasting results.
A career at Capstone means working for a company who values and appreciates each and every member of the team. Built on a strong moral foundation, we have a 20-year history of treating our employees and consultants right. If you want to work for a company that supports you and empowers you to do your best work, join us today. www.capstonec.com