Our meeting for November'2023 will take place on November 29th, starting at 6 PM Central Time. It will be an in-person event, and our sponsor, Lunavi, will host the event at 18881 W Dodge Road, Elkhorn, NE 68022.
Our sponsor will provide food and drinks 15-20 minutes before the start of the meeting.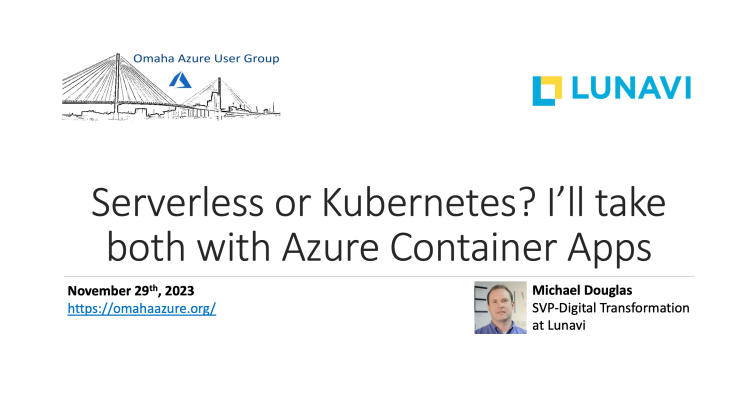 Title: Serverless or Kubernetes? I'll Take Both with Azure Container Apps
Azure Container Apps give you the power for Kubernetes using serverless containers without the complexity of understanding and configuring the underlying infrastructure. Even AKS requires a lot of knowledge to set up and manage. Learn how to accelerate developer productivity with Azure Container Apps and build scalable apps without the complexity while only paying for what you use. Additional we will look at how to leverage built in tools like KEDA and DAPR in your application along with how to use Environments to secure communication between your container apps.
Speaker: Mike Douglas
Mike Douglas is SVP of Digital Transformation at Lunavi helping to ensure our customers are successful in their Digital Transformation Journeys utilizing AI, modern applications, data analytics, and modern applications . He has a long history helping organizations to continuously improve their application security and compliance controls, speed of delivery, and quality through DevOps practices. He is an active community member in leading the Omaha DevOps meetup and organizing events in Omaha like Global Azure Bootcamp and Global DevOps Bootcamp. He also speaks regularly at a number of regional and national events such as KCDC, HDC, VS Live, and Nebraska Code(). He is a Microsoft MVP in Developer Technologies with a focus in Azure DevOps and enjoys sharing his experiences in DevOps, Automated Testing, and Security at www.lunavi.com/resources/blog and on Twitter at @mikedouglasdev.
Sponsor: Lunavi
Lunavi is an IT consulting firm and MSP that helps organizations like yours achieve digital transformation. We offer a broad range of services from app development and data analytics to infrastructure modernization and cloud enablement. Our expert consultants and support staff work alongside you to navigate technology challenges from the data center to DevOps, extending your IT team to deliver next-generation technology in a better way.